Our Hammock Style Dog Car Seat Cover Shown Looking into Vehicle from Drivers side
Dimensions of our Hammock Style Dog Car Seat Cover
It's easy to share the back seat with your pup
Just unhook the front panel that contains the mesh insert.
Zippers Allow You to Control Hammock Configuration
Zip all to fully protect your backseat and keep your dog safe. Zip down one of the sides for easy in/out access.
Our Hammock Style Dog Car Seat Cover Has A Special Mesh Window
A centered mesh panel on this microfiber hammock creates a viewing window between you and your dog, and allows for the passage of cool air and heat between the front dash and the backseat. This innovative design helps your dog feel more at ease while on the road, increases their comfort, and doesn't distract from the hammock's main job of keeping dirt, sand, and water off your car seats and floor.
Installation is a Breeze
Simply hook it to the front and rear headrests. Adjustable headrests required for installation. Polyester. Washable. Imported. and better air flow Water resistant, breathable quilted microfiber cover protects your car seat and floors from moisture, dirt, and dog hair Quilted for your dog's comfort. Easy to install and remove as needed.
Other Special Features of Our Hammock Style Dog Car Seat Cover
The protector is water resistant and breathable with a special non-slip net backing.
Has Seat Anchors that that help to holds the hammock securely in place as your dog gets in and out of the vehicle.
Snap Buckles for easy installation
Features velcro openings for threading seat belts through.
2 Pockets for storage
Uses heat pressing technology which results in no needle marks. This makes your cover 100% waterproof.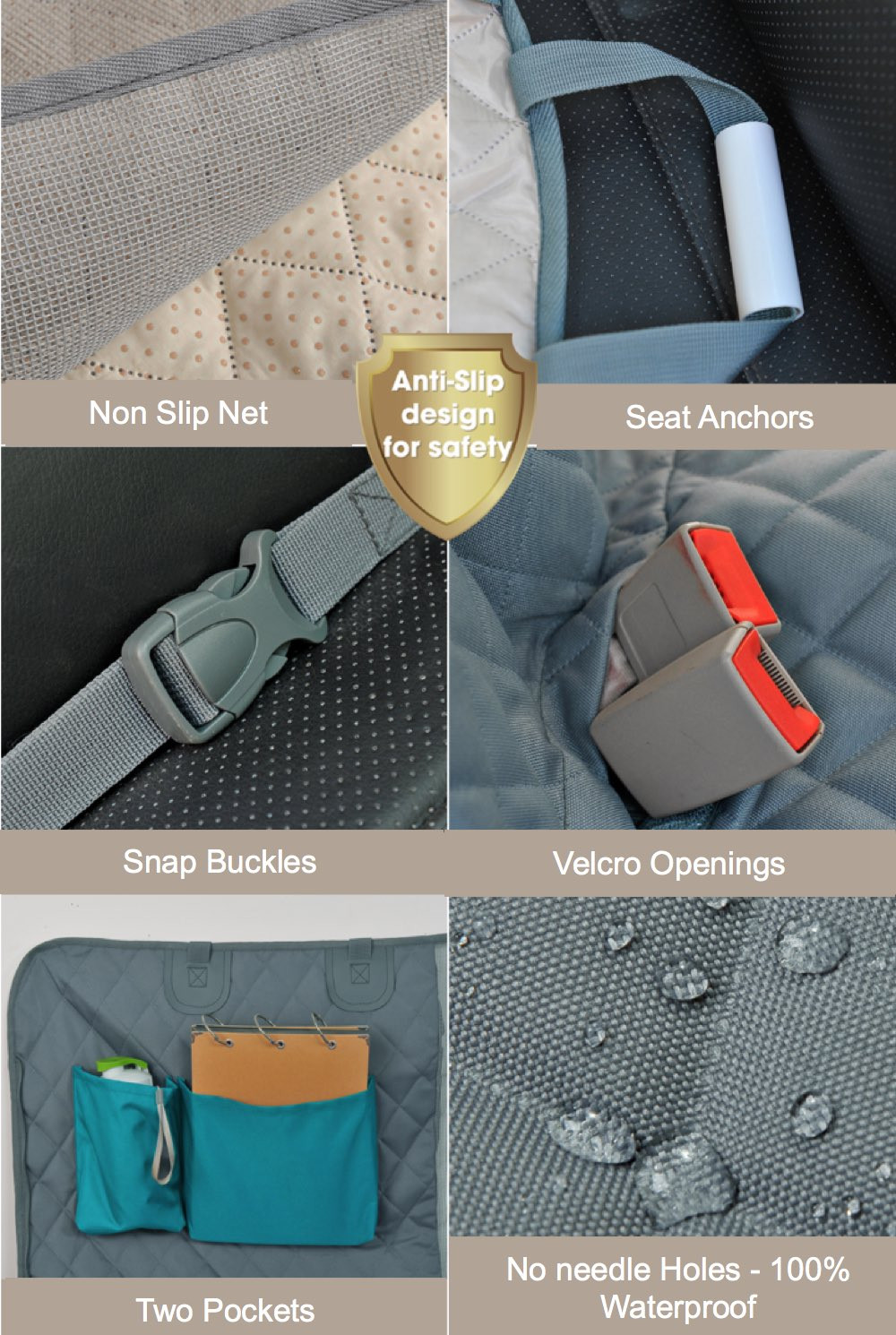 100% LIFETIME WARRANTY CUSTOMER SERVICE
If you have any issue about the dog car seat covers, feel free to contact us. Our customer service will always here for help.
Keep your dog safe while driving and Keep your Vehicle Clean! Order Yours Today!
Delivery Time and Shipping Costs
FREE Shipping
Delivered in 5-9 Business Days